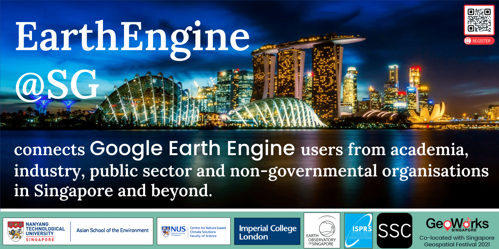 EarthEngine@SG connects Google Earth Engine users from academia, industry, public sector and non-governmental organisations in Singapore and beyond.
Google Earth Engine (EE) is a powerful cloud-based platform used to process remotely sensed satellite imagery and conduct large-scale land cover mapping on-the-fly. The applications of EE are numerous and cover a range of topics such as urban expansion, deforestation, and mapping of hazards, just to name a few. The user community in Singapore has grown over time and we would like to bring the community together through a one-day virtual symposium.
We are excited to host EarthEngine@SG during the SG Geospatial Festival and allow this event to be a platform for connecting with users of EE from academia, industry as well as public sectors and non-governmental organisations. The one-day virtual event includes a keynote talk, parallel talks on different topics, a networking breakout session and hands-on EE workshops.
This event is organized by Janice Lee (Assistant Professor at the Asian School of the Environment, Earth Observatory of Singapore, Nanyang Technological University of Singapore),  Jose Don De Alban (Research Associate at Centre for Nature-based Climate Solutions, Department of Biological Sciences, National University of Singapore), Sheryl Rose Reyes (International Society for Photogrammetry and Remote Sensing Student Consortium - ISPRS SC), Sabrina Szeto (Geospatial Consultant at Sabrina Szeto Consulting and Executive Board Member at Women in Geospatial+) and Minerva Singh (Research Fellow, Imperial College London).
Here are some useful links and resources for each of the sessions. The recordings and slides are archived permanently on the ISPRS SC website. 
Planning for follow-up event in next year during the week of 28 Feb to 4 Mar 2022. Likely a one-day in-person event in Singapore where participants give lightning talks and get together for networking and brainstorming activities.
---
Keynote Presentation
Nicholas Clinton, Developer Advocate at Google
Video | Presentation | Additional Resources


---
Parallel Talks
Dr. Nicholas Murray, Senior Research Fellow and ARC DECRA Fellow at the College of Science and Engineering, James Cook University
Losses and gains of Earth's intertidal ecosystems
Video | Presentation | Additional Resources
Dr. Mong Suan Yee,  Director of Engineering at Kumi Analytics
Machine learning with Google Earth Engine
Dr. Keiko Nomura, Director of Product Development at Climate Engine
Fate of forests at your fingertips - power of Google Cloud Platform in detecting visibly similar crop types and remaining forests
The event was not recorded, per the speaker's request. Here are the links to the papers presented during this talk: 
More Than Meets the Eye: Using Sentinel-2 to Map Small Plantations in Complex Forest Landscapes
Oil palm concessions in southern Myanmar consist mostly of unconverted forest
Climate Engine Tutorials and Videos
Jakrapong Tawala, UNOSAT UNITAR
Google Earth Engine for the UN Humanitarian Assistance Mission
---

Workshops
Dr. Minerva Singh, Research Fellow at Imperial College London
Introduction to Google Earth Engine
Dr. Keiko Nomura, Director of Product Development at Climate Engine
Earth Engine Tips and Tricks
Video | Presentation | Additional Resources
Yvonne Fong, EO Data Science
Google Earth Engine Apps
Video | Presentation | Additional Resources | Repository (Scripts)
*Note: The links provided above were shared by the speakers, for reference and further information. The ISPRS SC does not represent any of the affiliations/views that may have been mentioned in these links.